We are delighted to announce that Mangel Florist & Gifts has now fully reopened for business!
We hope that you will join us in toasting 100 years of these two Chicago institutions. Watch our website and follow us on Facebook and Instagram for announcements about special events and promotions. If you would like to be on our mailing list, just give us a call or click here to sign up online.
Welcome home to Mangel Florist & Gifts!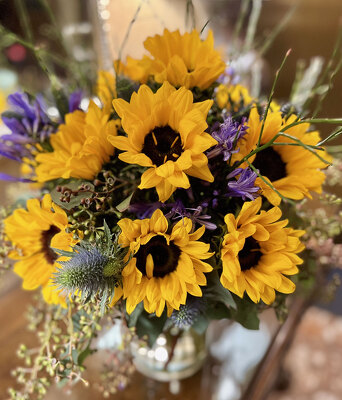 SunFlowers with Blues
2005
"To show support for the courageous people of Ukraine, Mangel Florist is offering this lovely sunflower and thistle arrangement in Ukrainian colors! For each such arrangement sold, we shall donate $20 to UNICEF to provide desperately needed care for Ukraine's children."
Starting at $100.00